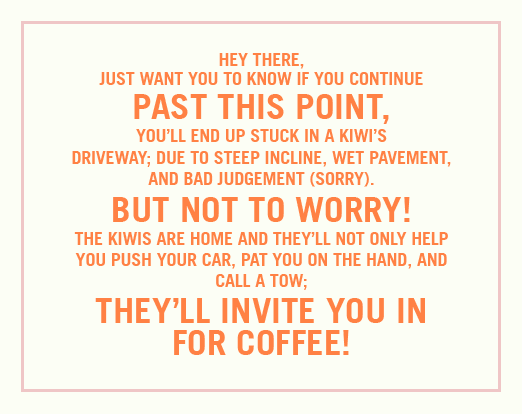 Today, I found myself discussing the Great Lakes, Chevrolet subsidiaries, and the New Zealand economy over coffee with complete strangers, still in their pajamas. You'd think Keith and I were long-lost relatives, seeing how they took us in; giving us a short history of their home, sharing their coming travel plans, and overall acting as if they couldn't be happier to see us.

Nevermind our electric-blue rental car stuck in the driveway of their very posh—and precariously situated— home.
To summarize, Keith and I were on mission to view a rental property nestled with several other homes at the bottom of a very steep driveway, slick with rain and leaves. Rather than walk down said driveway, we drove. Isn't that so very American of us? Who walks down a driveway when one can drive?
Soon, our wheels were spinning, and in good hope of getting a running start back up the hill, we instead slid our way deeper and deeper down the hill until the car was completely wedged against the house at the very end of the driveway (and next to the rental property).
Keith: We'll just, back into this spot, and then have enough traction to get out.
Eby: What if we knock down that house, next to the spot?
Keith: Not helpful.
Eby: Yup. I need to get out. I don't want to be in the car while you gun it.
Keith: Ok. Go stand up the hill, far up the hill. Please.
Eby walks away from the car, then back.
Eby: What should I do if something goes wrong, and you're unconscious?
Keith: Sigh. Call 111 (equivalent to 911)
Eby: Ok. On the cell phone we don't have. Got it. Hope you don't die.
Keith: Thanks for the support, sweetie!
But no worries! These wonderful neighbors dashed to our rescue; calling their AA service (something like AAA), entertaining us over coffee while we waited, and untimely ensuring that our car was removed without damage.
Keith thinks it was a nice way to make friends.
I was, and am, beyond embarrassed. If we end up moving into the rental next door to this couple, I'll not be able to rest until I bake them a million cookies.
Every. Single. Thursday.